Message from the Chairman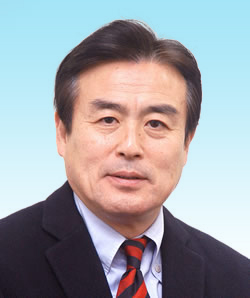 Other positions held
2013-2014 – Chair of the Sports Industry Revitalization Committee, Ministry of Economy, Trade and Industry
2014-2016 – Chair of the Committee for Research on Snow Resorts, Japan Tourism Agency
2014-2016 – Chair of the Committee for the Authorization of Startup Industries (fitness industry), Ministry of Health, Labour and Welfare
2015-2017 – Chair of the Committee for the Authorization of Startup Industries (sports events industry), Ministry of Health, Labour and Welfare
2015-2016 – Chair of the Committee to Study a Certification Framework for Health Tourism, Ministry of Economy, Trade and Industry
2016 – Chair of the Study Group on Business Entities for Regional Vitalization through Sport, Japan Sports Agency
2016-2017 – Chair of the Study Group on a Basic Plan for the Development of Multipurpose Sports Facilities, Saga Prefecture
Main publications
"Sport Facility Management," Sports Business Series Vol. V, Taishukan Publishing Co, Ltd. (2010)
"New YMCA Strategy," The National Council of YMCAs of Japan (2012)
"Basic Knowledge on J-League Marketing" Soubun Kikaku (2013)
"Olympic Marketing" (translation supervisor), Studio Tac Creative Co., Ltd. (2014)
"Sports Industry Theory, (vol. 6)," Kyorin-Shoin (2014)
"Sports Tourism Handbook" Gakugei Publishing Co., Ltd. (2015)
"Sports Cities Strategy" Gakugei Publishing Co., Ltd. (2016)
Greeting from the Chairman
In the tourism industry, for many years, sport and tourism were hardly ever mentioned together as an integrated classification. However, participatory sports such as marathons and triathlon competitions are now commonplace across Japan. In addition, with the holding of many international sporting tournaments and active invitations to sports bodies to conduct sports camps, sports tourism aimed at encouraging visitors to both participate in and watch sporting events is now beginning to become an increasing reality.
In response to this changing situation, in 2010 the Japan Sports Agency began advocating sports tourism. In 2012, the Basic Policy for the Promotion of Sports Tourism was formulated, and the Japan Sport Tourism Alliance (JSTA) was established.
Sports tourism is not restricted merely to participating or watching, but also enables visitors to travel and interact with other sports fans. The time is now right for the creation of a wide-ranging framework for traveling sports fans that incorporates such factors as the utilization of dormant regional resources and the unearthing of hidden attractions, as well as bidding to host sports events and promote inbound tourism.
The JSTA plays a central role in Japan's sports tourism industry not only widely promoting and raising awareness of sports-related activities, but also serving as a hub to bring together academic, business and governmental circles for collaboration purposes, conducting business matchmaking activities for related parties, and enhancing network promotions. Through such activities, we at the JSTA are contributing to the development of sports tourism in Japan.